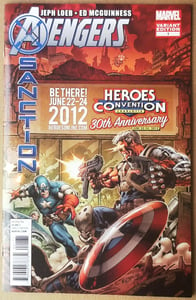 $

5.00
Heroes Aren't Hard exclusive HeroesCon 2012 variant cover of this book that kicks off 2012's Avengers VS X-Men Crossover!
This book is extremely limited!
Will ship up to 6 books for same flat fee of $6 shipping.
AVENGERS X-SANCTION #1 (of 4) MARVEL COMICS
(W) Jeph Loeb (A/CA) Ed McGuinness
CABLE IS BACK! AND HE'S GOT JUST 24 HOURS TO WIPE THE AVENGERS FROM THE PAGES OF HISTORY!
How has Cable been reborn? Where has he been since "Second Coming"? And what dark event has driven him to destroy the Avengers? The answers are just the tip of an iceberg that threatens to smash the Marvel Universe to smithereens!
A crucial new series by the creators behind SUPERMAN/BATMAN and HULK, Jeph Loeb and Ed McGuinness
THE COUNTDOWN TO 2012's STATUS QUO-SHATTERING EPIC BEGINS HERE!
32 PGS./Rating T+
Shipping: Flat $5.00, No international shipping.